With all that is on social media and the Internet, starting Yoga can feel a bit overwhelming. But it need not be so.
We teach an exact and easy-to-learn system for beginning yoga properly and for supporting you in an ongoing practice for continued growth – physically, mentally, spiritual.
We recommend starting Yoga in the following order:
1. Take a Free Trial Yoga Class
Every Saturday morning, from 10.30-11.30am, we hold a free beginner-level, yoga class. No experience is necessary. It is a great way to check out a yoga class, our premises, meet our teachers and ask questions.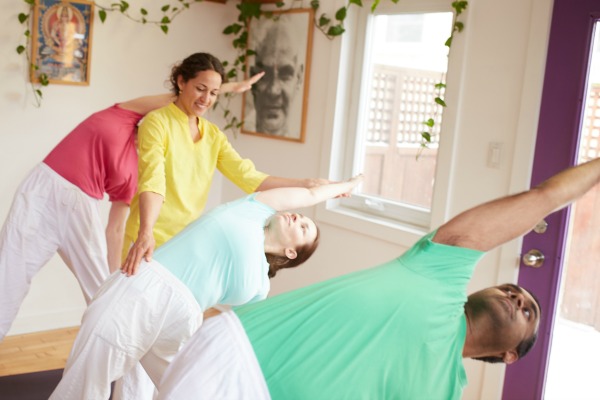 2. Join a Beginner Yoga Course (Yoga 1 and Yoga 2)
Beginner Yoga Courses teach the foundations of yoga systematically – from proper breathing, yoga pose basics, relaxation techniques. You'll also receive an introduction to yogic diet, meditation and positive thinking. Class sizes are small and the atmosphere is friendly, allowing for personal attention and questions. Yoga 1 focuses on proper technique and foundational theory. Yoga 2 goes deeper into practice to build greater strength, flexibility and stamina.
Learn more about the Beginner Yoga Courses
3. Practice at Open Yoga Classes
It is said that there are three keys to progressing in yoga: Practice, Practice and… Practice. We have classes seven days a week. Teachers are keen to offer guidance and answer your questions.
See the Yoga Class Schedule.
4. Explore More Through Workshops or Courses
You may find over time that you want to explore an area of Yoga more deeply. We regularly have workshops and courses on a variety of topics – vegetarian cooking, advanced yoga asana, Ayurveda, yoga philosophy and more.
See the Workshop/Course Schedule.
More questions?
See our Frequently Asked Questions page and/or Contact Us.
A few final recommendations: relax, keep an open mind and enjoy!
Om Shanti. Om Peace.