Learn the basics of yoga from scratch systematically and safely in a small, friendly and relaxed setting with one of our Yoga for Beginners Courses.
Or, take a course to renew your practice after some time away or to strengthen the foundation of your existing practice.
We recommend taking both Yoga 1 and Yoga 2 in order to learn the basics and to develop a thorough understanding of yoga practice and theory.
Courses are 4 weeks, with students meeting twice per week (8 classes total).
COST: $115 non-members / $95 members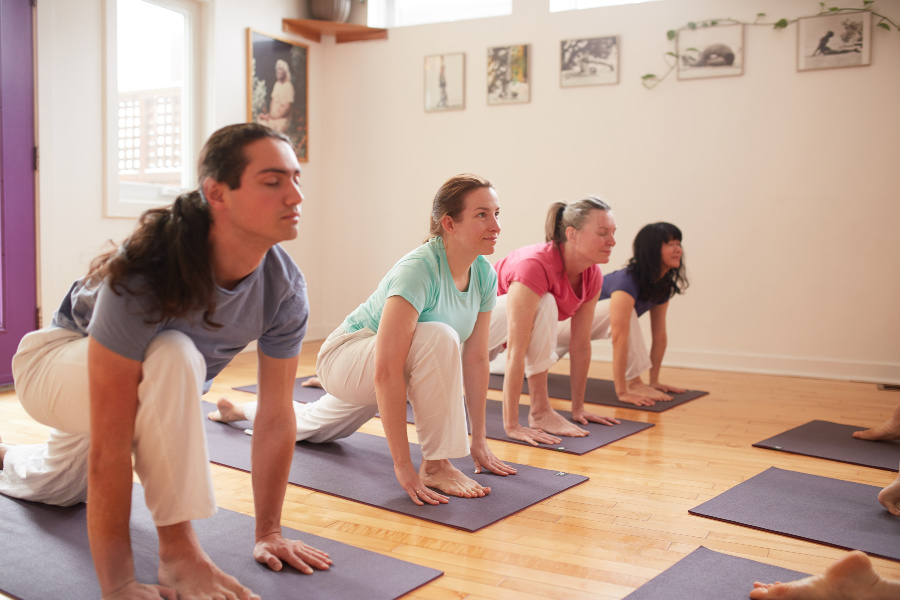 Yoga 1
In Yoga 1, you start from the beginning, learning step-by-step. This course teaches: 12 basic yoga postures, the sun salutation (surya namaskar), proper breathing and pranayama, relaxation techniques. Also includes discussion about the 5 Points of Yoga for health and well-being.
Upcoming Yoga 1 Dates: 
Yoga 2
In Yoga 2, you will begin to deepen your practice with more challenging variations and longer holding of postures to build strength, flexibility and still the mind. Kindly note that completion of Yoga 1 is required before registering for Yoga 2.
Upcoming Yoga 2 Dates: 
*** NOT SURE? TRY A CLASS FOR FREE! SUNDAYS 4:00 – 5:30 pm ***
We offer a Free Trial Yoga Clasa every Sunday afternoon from 4:00 – 5:30 pm. It's beginner level and all are welcome. It's a great way to experience our Centre and teachings and ask any questions you have.