We teach traditional yoga in a precise and simple way. Our Beginner yoga courses offer step-by-step approach to learn basic Hatha Yoga postures, breathing exercises and relaxation techniques. Yoga 1 and Yoga 2 levels take you progressively from the beginner level to the intermediate level.
You will receive personal guidance that will allow you to progress at your own pace. Once you have learnt the different postures and breathing exercises you are encouraged to deepen your practice by taking our drop-in classes
If you are new to yoga or to the Sivananda tradition we recommend taking our online Free Trial class, offered every Saturday at 10.30 am. You will be guided in the practice of pranayama (breathing exercises), Sun Salutations, asanas (yoga postures) and will finish the class with a deep relaxation.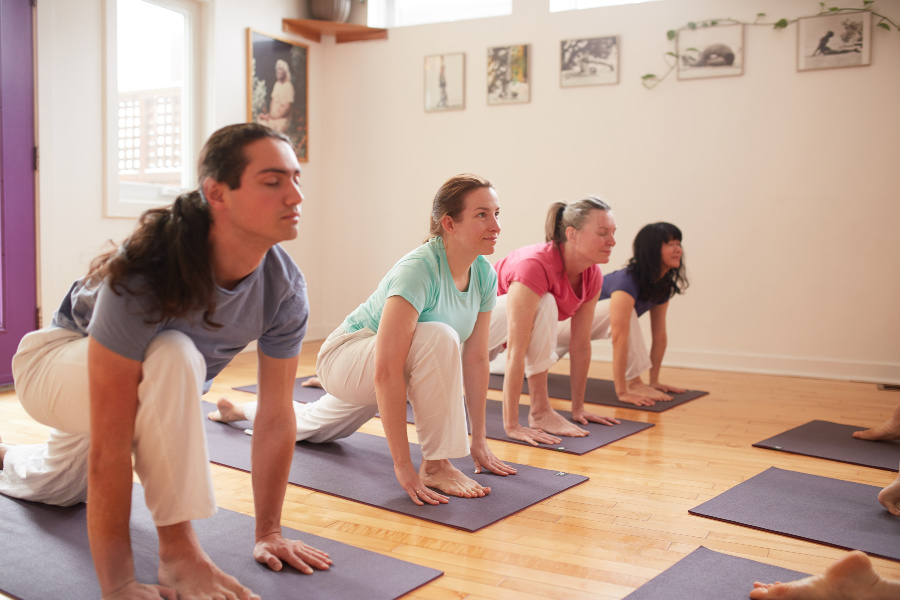 Introduction to Yoga (Yoga 1)
This course is the good place to start and is suitable for complete beginners as well as those who have already practiced yoga occasionally. You will be gradually introduced to the basic yoga postures for developing strength and flexibility, breathing exercises for increasing your energy and relaxation techniques. In this course we will also introduce you to the principles of yogic diet and meditation.
Establish Your Practice (Yoga 2)
This course builds on the foundation laid in Yoga 1. It  will help you build up a solid practice of the basic postures, simple variations and breathing practices. This course is also an ideal refresher class for those who would like to get back into the practice after a lapse of simply want to revisit the basics. Intermediate level practitioners who are new to Sivananda Yoga would benefit from this course as well.