Want to learn Yoga? Learn the basics of Yoga from scratch with our New to Yoga Courses. Or, take a course to renew your yoga practice after some time away, to strengthen the foundation of your existing practice or to discover a new kind of practice.
Learn online with friendly and relaxed teachers
Small class sizes for personalized attention
Enjoy a holistic approach to yoga – breathing, philosophy & yoga postures
Take both Yoga 1 and Yoga 2 courses to learn the basics and to develop a thorough understanding of yoga practice and theory.
Our courses are delivered online via Zoom and are interactive. Participants are welcomed to ask questions at any time.
For privacy reasons, we do not record any of our programs.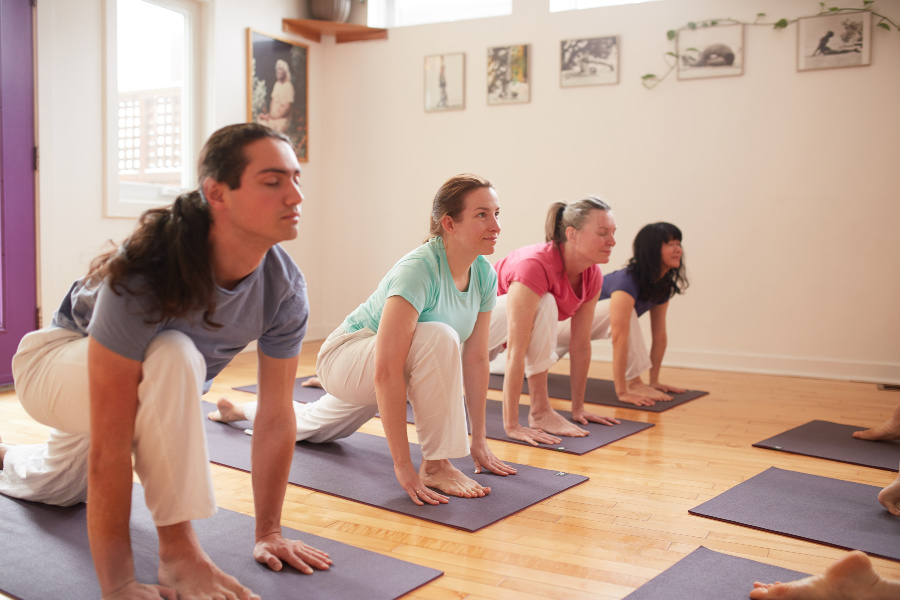 Introduction to Yoga (Yoga 1)
The practice done at the Sivananda Centre is rooted in classical Hatha Yoga systems, which secures optimal physical and mental benefits. Learn all you need to know about our practice with our Introduction to Yoga Course.
Learn all the fundamentals for perfect health and balanced mind:
12 basic yoga postures
the sun salutation (surya namaskar)
proper breathing and pranayama
relaxation techniques
the 5 Points of Yoga for health and well-being
5 classes, from Monday to Friday
Establish Your Practice (Yoga 2)
This course builds on the foundation laid in our Introduction to Yoga course and gives the opportunity to build up a solid practice, including all the basic postures and breathing exercises.
Emphasis is placed on holding postures longer and making smooth transitions between postures. Deepening the practice of asanas and pranayama will help wlow doen your mind. You will also discover some variations of the basic Yoga postures.
This is an ideal refresher class for those who have lapsed in their practice. It is also suitable for intermediate practitioners who are new to Sivananda Yoga Center.
5 classes, from Monday to Friday