Online: Chanting of the Sunday Prayers
Sunday Evenings, 6:00 – 6:30 pm
Satsang is unfortunately cancelled during the covid-19 pandemic. In the meantime, we'll meet online to chant the Sunday Prayers. Join us to as we open our hearts and connect with fellow yoga practitioners through the chanting of uplifting prayers dedicated to Lord Siva, Rama and the Divine Mother.
Free of charge (however donations are greatly appreciated)
Download wording (PDF)
If you don't have a chant book, you can download the words here in PDF format:
Satsang means 'association with the wise'. It is the heart of yoga practice. Meditating together in a group creates a strong spiritual atmosphere which allows a deeper experience of meditation. In satsang, people of different levels practice together – from newcomers to experienced yoga teachers. Satsang consists of:
30 minutes of silent group meditation
30 minutes of meditative chanting of mantras and kirtan
an easy-to-follow lecture on yoga philosophy or psychology
Weekday mornings: Mon to Fri, 6:00 – 7:00 am
Friday evenings: 8:15 – 9:30 pm
Sunday evenings: 6:15 – 7:45 pm
Free of charge. Donations of flowers or sweets are very welcome but completely optional.  No advance registration necessary. No prior experience required. All are welcome.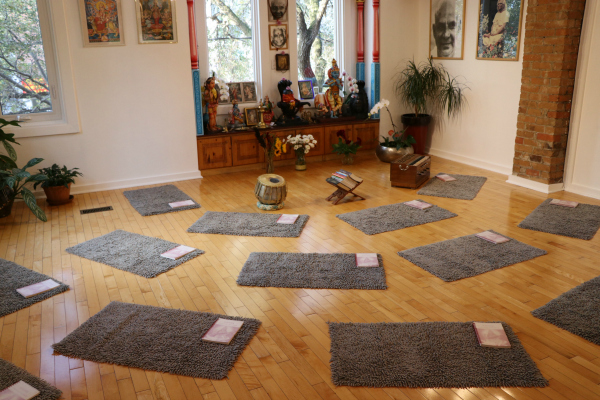 Special Satsangs
From time to time we are blessed to have guest speakers, musicians and events at our satangs. Please note some below and join us. (Free of charge).
No Events on The List at This Time