Abhishekam
Please call in advance to book an abhishekam/puja for your selected deity, or you can book online through the temple website.
Please bring the following items in enough quantities for puja for all deities.
Items to bring For Regular Puja
• Sesame oil for the lamps
• Basmati rice for neivedyam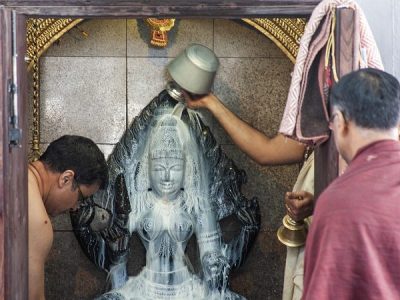 • Outfits for the deities
• Fruits
• Flowers
• Betel leaves and betel nut
• Garlands
• Sandalwood powder
• Turmeric powder
• Rice powder
• Camphor
• Coconut
• Dhoopam cones or dashangam
Additional items for Abhishekam
• Milk
• Yoghurt
• Honey
• Ghee
• Cans of coconut water
• Rose water
When you receive prasad kindly give a dakshina to the priest.