Below is our Online Yoga Class Schedule. Classes are taught via Zoom. Each class includes:
Pranayama (breathing exercices)

Warm-ups (Sun Salutation and leg stretches)

Basic asanas (yoga postures)

Savasana (final relaxation)
Feel the energizing and balancing effect of Yoga practice in the comfort of your home!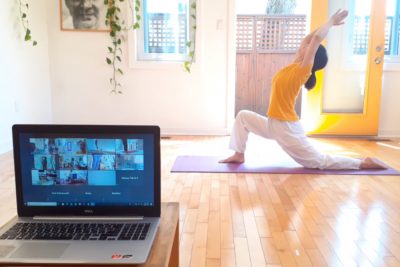 Class Schedule
MON
TUE
WED
THU
FRI
SAT
SUN
9:30 – 11:00 am
Open
Class
10:30 – Noon
Open
Class
11:00 – 11:45
Chair Yoga
4:00 – 6:00 pm
Advanced Class
5:00 – 6:30 pm
Open
Class
Open
Class
Open
Class
Open
Class
Class Plans
During nearly 5 months of closure, we are grateful that we were able to offer 150+ open classes and programs offered online for free. As we are moving into Stage 3 and slowly reopening the Center, online classes will still be available but will be paid.
Non-members
Single Open or Advanced Class: $18
Annual Membership: $55
For Members
Single Open or Advanced Class: $14
Weekly Unlimited: $45
10 Class Card: $105
Monthly Unlimited: $100
3 Months Unlimited: $230
6 Months Unlimited: $350
1 Year Unlimited: $500
Payment Option
We kindly ask student to buy class passes and cards online
If you had classes left before the closure, you may already have an account in our online system. Click "Forgot Password" if you have trouble loging in.
If you are a new student, you can create an acount by clicking "Register".
Memberships and class plans are valid for both online and in-person classes!
If you had a Membership of Class plan prior to the closure, please contact us to:
Extend your membership and/or class plan for the duration of the closure (free)
Get the Zoom link to access the Online Classes.
Tips for using Zoom
The transmission works on all Apple, Android or Windows devices. The best is a device with a camera so that your asanas can be seen by the teacher to enable better guidance.

At the earliest half an hour before the start, click on the link below for the corresponding class. You will be guided from there to the video broadcast.

Upon clicking on the link, your device will guide you step by step through the free download of the Zoom software. Zoom will then take you to your online class.

Keep your microphone off, and place yourself on your mat horizontally in front of the camera in full view so the instructor can give you proper corrections if need be.